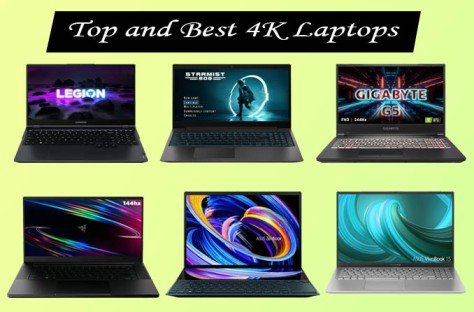 A laptop is something that almost all of us use daily, particularly if you are searching for a 4k laptop that can help you work and play on the job. And unlike a desktop, the screen or display of your laptop is fixed, so you may choose to get a laptop with a high-quality display that will not become obsolete in the future years.
What is the Best 4k Laptop in 2023?
Here is the following list of the best 4k laptops:
Razer Blade 15 Gaming Laptop
Dell XPS 15 (9510)
Asus ZenBook Pro Duo (UX582L)
MSI GE66 Raider UHD 4K
Lenovo Yoga 9i 15
Gigabyte Aero 15 (2021, RTX 3070)
HP Spectre x360 14
1. Razer Blade 15 Gaming 4K Laptop
When it comes to gaming products, including not just gaming accessories but also high-end gaming laptops like the Razer Blade.
However, this list is sorted from most powerful option to least, with the most potent choice being the Razer Blade 15 4K laptop, which is why it is in the first place.
To achieve the same results, it is equipped with powerful internal hardware, such as an Intel Core i9 12th Gen 12900H 14-core CPU that can boost clock speeds of up to 5.3 GHz.
You may anticipate the highest potential level of performance while using it in combination with its Nvidia GeForce RTX 3080 Ti 16 GPU.
Moreover, this 4K laptop comes equipped with 32 gigabytes of DDR5 RAM operating at 4800 megahertz and a one terabyte solid-state drive (SSD) powered by PCIe Gen 4.
This laptop's display has a top-of-the-line 15.6-inch 4K UHD 144 Hz IPS display, making it the ideal device for gaming because of its high refresh rate.
In addition, this Razer Blade 15 comes with many connectors, including three USB Type-A 3.2 Gen 2 ports, two Thunderbolt 4 ports, one HDMI 2.1 port, one SD card slot, and one audio port, and one audio port.
Pros:
Overall best performance
Superb display for gaming and work
Best connectivity options
Cons:
2. Dell XPS 15 (9510)
However, the XPS 15 has been known for years to have one of the best displays available, and the recently updated 9510 model is not any different from its predecessor in this regard.
Dell XPS 15 is the best 4k laptop 15.6-inch 4K UHD+ display, has a resolution of 3840×2400, a more conventional aspect ratio of 16:10, and virtually no bezels left anywhere including below the screen.
In addition, Dell has introduced an OLED display option with a resolution of 3456 x 2160 (3.5K), a coating that prevents reflections, and a brightness of 400 nits.
If you want the contrast between your darks and lights to be as strong as it can be, this is an excellent choice. There are eight cores in the 11th generation Intel Core i7-11800H central processing unit (CPU), which makes it a true performer.
However, you can upgrade to a Core i9-11900H CPU, which also has eight cores and a clock speed of up to 4.9GHz.
Pros:
Excellent battery time
Tiny bezels all around
Streamlined design
Cons:
3. Asus ZenBook Pro Duo (UX582L)
The stunning OLED touchscreen included on the Asus ZenBook Pro Duo 15 comes with Pantone verified colour, which ensures vivid accuracy throughout any creative activity you may do.
However, this is particularly significant for the beast in question, which has a CPU from the 11th generation of Intel Core, a graphics processing unit from RTX 3070, 32 gigabytes of RAM, and a one terabyte solid state drive.
It seems to have been designed for the workload of a professional. However, the Duo has an edge when it comes to the display.
There is a second display, which is alluded to both in the name and the accompanying picture. ScreenPad Plus is a 14-by-4.3-inch touchscreen panel with a resolution of 3840 by 1100 pixels on the bottom deck.
Although this panel is a very valuable tool for prosumers since it allows them to obtain more controls in Photoshop or utilise the stylus for illustration work, this 4k laptop is the best choice for you.
Pros:
Build quality is really good
Best curb appeal
Great performance
Cons:
4. MSI GE66 Raider UHD 4K
The MSI GE66 is a laptop from an older generation, but it is still one of the most powerful alternatives available. Because of its strong internals, it is an excellent alternative to a desktop computer.
MSI markets the GE66 as a desktop replacement. This article places the MSI GE66 Raider 4K laptop, another excellent choice for gaming if you want a very powerful laptop, in the second position because of its presence in this listicle.
Even though it uses an older-generation processor, it is still quite competent thanks to its Intel Core i9 11th Gen 11980HK eight-core CPU that can raise its clock speed to up to 5.0 GHz.
Most notably, the graphics processing unit (GPU) that comes with this cheap 4k laptop is an Nvidia GeForce RTX 3080 with 16 gigabytes of memory, making it an excellent choice for gaming.
Memory-wise, it has 32 gigabytes of DDR4 3200 MHz RAM; storage-wise, it has a two terabyte PCIe Gen 4 solid-state drive, making it one of the greatest currently available combinations.
Pros:
Excellent ports selection
Storage space is really good
Battery life is amazing
Cons:
Not a good display for gaming
5. Lenovo Yoga 9i 15
The Lenovo Yoga 9i 15 is essentially the same as its predecessor, the Yoga C940, featured in our roundup's last iteration. It still has a high-end metal look and comes with a convertible hinge that can be used either as a soundbar or as a speaker for Dolby Atmos.
Even though it maintains a 16:9 aspect ratio, the 15.6-inch display's resolution of 3840 x 2160 in Ultra High Definition (UHD) gives it a strikingly vivid appearance.
It's a touchscreen that supports HDR 400 and has a brightness of roughly 500 nits. In addition to that, there is a built-in active pen that may be used for writing.
However, this affordable 4k laptop was designed for enjoyment, but it also can perform. Include a 10th-generation Intel Core i9-10980HK central processing unit (CPU) with eight cores.
It comes with 16 gigabytes of DDR4 RAM, a two terabyte M.2 PCIe NVMe solid-state drive, and an NVIDIA GTX 1650 Ti dedicated graphics processing unit (GPU) with 4 gigabytes of video memory (VRAM).
The keyboard is easy to use, a fingerprint scanner for added safety, and a privacy shutter can be used to cover the camera when not in use.
Pros:
Excellent HDR display with Dolby Vision
Soundbar hinge
Overall Fantastic performance
Cons:
6. Gigabyte Aero 15 (2021, RTX 3070)
The Gigabyte Aero 15 is an impressive work in many respects, including its strong, all-aluminium, jet-black chassis; its stunning OLED display; and its gratifying, clicky keyboard.
In addition to this, its gameplay and performance benchmarks are respectable. Gigabyte, on the other hand, makes a terrible mistake with that front-facing camera.
Gigabyte could have put more consideration into developing a more functional camera, considering the new norms that have emerged in the workplace.
The battery life of the Aero 15 may cause worry for users who detest being chained to a charger for the whole workday; nevertheless, short battery life is typical for most gaming rigs and should not be cause for alarm.
Moreover, content creators would do well to consider the Aero 15 as an option. Photo and video editors will profit from the Aero 15's colour-accurate 4K screen.
Still, they will also experience the delights of plunging into one of their favourite triple-A blockbusters after a long day at work, thanks to the Aero 15's portability.
Pros:
Small and lightweight for a gaming laptop
Clicky keyboard
Sturdy
Cons:
7. HP Spectre x360 14
The HP Spectre x360 14 is the greatest Windows laptop overall, and for a good reason. It adapts the beloved gem-cut design of the smaller Spectre to accommodate a 13.5-inch touch OLED display with a 3:2 aspect ratio.
However, this reduces the resolution to 3000×2000, but it's still sufficiently sharp to be included in our survey of 4K laptops.
The display boasts an anti-reflective coating, 400 nits of brightness, 100 per cent DCI-P3 colour accuracy, and a thin bezel. It is also compatible with a tilt-supporting active pen.
Intel Evo-certified platform, so you can anticipate speedy performance while operating on battery power.
Add the 11th Generation Intel Core i7-1165G7 processor, Iris Xe integrated graphics, 16GB of onboard RAM, and a 2TB M.2 PCIe NVMe SSD to do a great deal of work. The OLED display's 66Wh battery has an expected lifespan of around seven hours.
Pros:
Best battery life
Great performance
Excellent audio
Cons:
Frequently Asked Question About 4k laptop:
Q1: Is UHD comparable to 4K?
A: UHD has a display resolution of 3,840 x 2,160 pixels, nearly four times the resolution of the previous 1080 standard. A 4K TV has the same resolution, roughly four times that of the previous 1080 standard. While this falls somewhat short of "real" 4K, for simplicity, UHD resolution is sometimes referred to as 4K.
Q2: What should you look for in a laptop with 4K resolution?
A: You should search for the same features in a laptop with a 4K resolution that you would search for in a laptop with a lesser resolution. Read the reviews and make sure that the panel utilised supports not only 4K resolution but also offers a broad colour gamut, accurate colour reproduction, and good contrast.
You are more likely to discover a nice display on a 4K laptop since manufacturers often utilise higher-quality displays in such computers. In addition, today's most cutting-edge technology, such as OLED, is mostly used in 4K displays.
Q3: In the future, are you going to be able to update the internal components of your 4K laptop?
A: On the other hand, your laptop's internal components cannot be updated in the same way they can be on a desktop computer. However, depending on the kind of laptop you own, it may be possible to update some components, such as the storage and the random access memory (RAM). In addition, if your laptop can do so, you may use a Thunderbolt dock to attach an external graphics card to your computer.
Final Verdict:
In this article, we have told you about 4k laptops. I hope this article will be very helpful for you. You can buy a 4k laptop according to your need. You can contact us without hesitation if you need to know more about these laptops. Thank you!